Warehousing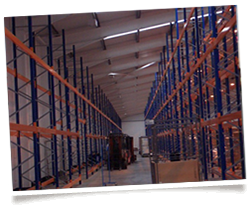 LMK Transport currently operates some 80,000 sq. ft of warehousing space, featuring racked and bulk storage, complete with sophisticated computerised stock control and management information reporting systems.
Close circuit security cameras cover all exit doors to ensure your goods are stored securely
Whether you have 1 pallet to store or 10,000 pallets, just want floor space or want space for a week or a year, whatever your needs, we can accommodate you all at competitive rates. The racked areas are able to accommodate various height pallets and can readily be altered to suit the customer requirements. LMK offers a prospective customer the opportunity to enjoy the benefits of a shared user warehouse. This option eliminates the need for the customer to recruit their own staff and find suitable premises from which to run the operation.
Our computerised warehouse management system allows for full stock history and pallet traceability. Value added services such as batch rotation and Best Before End dates are easily managed. Whether you require distribution, parking or warehousing all enquiries welcome.
Jump to Services or Top of Page